Once upon a time a young apprentice, on finishing a Tool Makers apprenticeship decided he needed a change of career (could n't stand working in a factory). He liked tinkering, taking things apart and putting them back together again (manufacturers use far to many screws in assembling things).
A friend suggested he try being a mobile service engineer fixing photocopiers for a photocopier company in Billingshurst West Sussex, the hardest part of the job was trying to keep his Fiesta van on the road (it kept falling off). During this time he completed many manufacturers training courses.
After 4 years he was head hunted, well not quite, a good friend had been offered a job working for a typewriter company in Burgess Hill who were opening a photocopier division, but he was talked out of taking the job, so our apprentice applied and was offered the job.
He spent three years there running the photocopier service department in charge basically himself, ordering spares and consumables as required. During this time he learnt about repairing typewriters, word processors and dictation equipment.
In 1988 the friend who introduced him to the photocopier industry set up his own business in Crawley selling photocopiers with another colleague, they approached our not quite so young apprentice about working for them, he jumped at the chance, everything went great for a couple of years and then due to ill health of one of the partners and a recession at the end of the eighties this company ran into financial trouble.
The remaining partner in the business offered the engineer a stake in a new business servicing the existing photocopier client base and he the partner would sell machines, the business set up in Brighton, it relocated to Rusper Horsham after two years were they sold Sharp photocopiers as part of the Photostatic Group things were still difficult, after another year the sales partner had had enough and sold his stake to the engineer, who ran the business single handed for eighteen months. The engineer was very busy and needed help, he heard about a new initiative called YTS a way of taking on a trainee, he spoke to the local job centre who sent along a young chap who had three years experience as a copier engineer, the young chap was unemployed they got on well and continued the business.
After another two years when the apprentice was approached by another young photocopier company who were essentially two sales man with no service department, the apprentice ran a photocopier service company with no real sales department, hey! does n't it make sense to merge the two business's. Of to Pulborough to be part of a new bigger company, three years later the novelty had worn off, the apprentice had learnt how to sell and maintain telephone systems and PC's, the two sales partners offered the apprentice some money to go away, he jumped at the chance.
This was a milestone Ricoh had just launched the Aficio 200 the first real "digital" photocopier, the engineer realised its potential to be linked to other products he opened an account with Infotec which sold the Ricoh products he started this business from his home in Crawley joining up with another service engineer who was working on his own they started trading as Printer Repair Sussex & Surrey Ltd, a lot of his old clients approached him wanting him to service their photocopier equipment everything was going quite well now and the two engineers needed some help with servicing and PC's which were now taking off in the small business sector. The apprentice and engineer approached the YTS chap who was still working in Pulborough to come and help them, everything seemed to be going well so something had to go wrong. With the advent of "digital" photocopiers the engineer decided that it was no longer prudent to include toner in their cost per copy meter charges as some clients used considerably more then others, so he reduced the cost per copy and started charging for toner separately, this was fair if the client choose to cover a copy in toner he would have to buy toner more regularly than some who did n't.
A divorce and the other engineer turning out to be less than honest. Goodbye other engineer, hiccup over the apprentice found himself with YTS chap working on there own, at this time the friend who introduced him to the industry came back to work with them in telesales.
The business moved to Unit 2 Hyders Farm, Bonnetts Lane, Crawley its present location in 2002 it was selling and maintaining photocopiers, PC's, Facsimile, and Phone Systems.
Three years pass quietly then in August 2006 the friend who had been working in telesales died suddenly and the apprentices three year old son was diagnosed with Leukaemia (major hiccup) the apprentice ran into financial problems. Long story short he had to close the trading as business.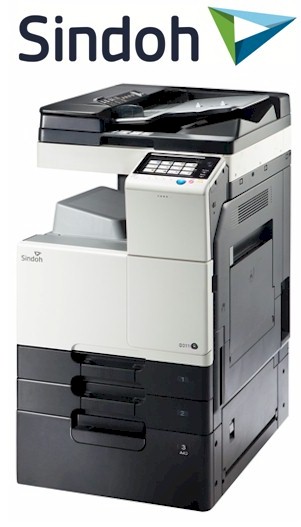 The client base and assets were bought by Quickstream Ltd who traded as Printer Repair Sussex & Surrey Ltd, the apprentice continues to work for the new business. At this time the apprentices wife took on the financial side of the business that she runs to this day.
At around this time the colour copier market was starting to take off, the apprentice was still selling Ricoh photocopiers and Muratec photocopiers which had proven very reliable, the Ricoh colour machines were not as reliable as the apprentice had hoped, they were also very expensive to maintain. Muratec announced a joint collaboration with Oki to produce colour machines, the apprentice was very impressed with the simple design of the Oki colour copier, the copy quality was astounding a lot better then the Ricoh.
Printer Repair Sussex & Surrey Ltd became Oki Executive series partners and are still to this day, the apprentice believes the Oki product to be the best entry level colour A3 device on the market, this was born out by the machine being awarded "PC Pro" magazine's highly recommended award, Oki followed this in 2012 by winning Laser Printer manufacturer of the year.
In 2011 the apprentice became aware of the "Buy with confidence" scheme run by Trading Standards, the photocopier industry had been always had a bad reputation for scams. The apprentice thought that undergoing the two day appraisal by Trading Standards would give clients peace of mind and shows clarity in their dealings. Trading Standards reviewed all their maintenance agreements, lease, and sales orders they all met with approval, Trading Standards also agreed that paying for toner separately was the fairest way of accounting for its cost. Printer Repair Sussex & Surrey Ltd are Trading Standards approved office equipment suppliers.
In 2012 one of the apprentices friends from college joined the business organising the day to day running of the business, YTS chap (his voice has broken now) continues on the technical side, in 2011 Penfold started with the business on the furniture and stationery side, the apprentice (bit greyer now) continues to wash bottles and sweep the floor, we are now looking for the next step and hopefully no more hiccups! Through the ups and downs they have continued to service clients needs and requirements in Sussex and Surrey, they still have several clients who were around back in 2000.
2021 Well its been a very busy 9 years, staff have come and gone. The Apprentice is on his own again, Covid is in full swing. We are now selling Konica Minolta machines under the Sindoh brand (they seem to be very reliable).
2021 August Pandemic continues, change of direction and branding. The apprentice has finally qualified and become a Director, rebranded as Printer Repair Sussex & Surrey Ltd, defines what we do more accurately. There are also about 20 other business trading as Digital Office Solutions, which can make acquiring goods from suppliers a little fraught.
"like a car, your printer or copier is only as reliable as the person servicing it"